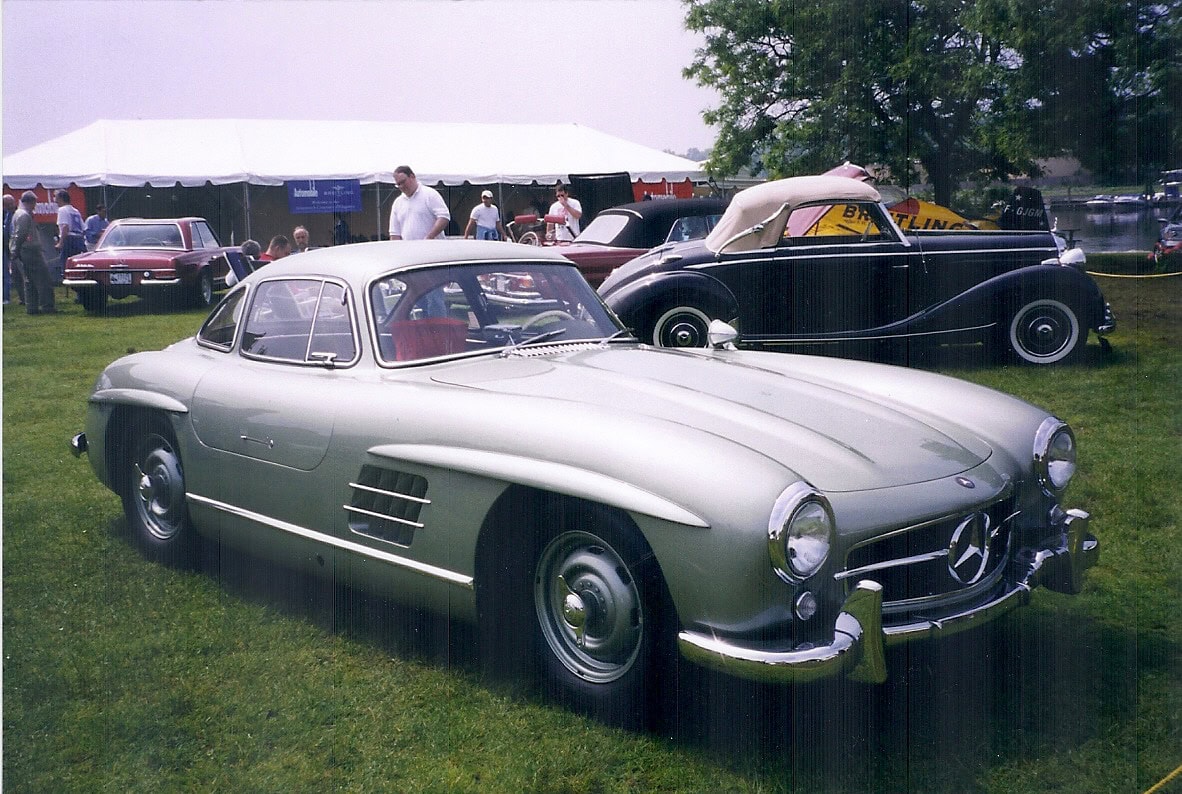 Dad's Last Column – Bill Vance – HISTORICAL SKETCHES
When you open your edition of Old Autos, you're supposed to find 'Historical Sketches' on the first page of the second section, but that long and dependable fixture at the paper has come to an end. My Dad, Bill Vance, passed away on Monday September 19, 2022, at the age of 86 as one of Canada's most respected automotive historians.
He had written for Old Autos since its beginning and it was always nice for us to hear, "Your Dad is Bill Vance? I love his column in Old Autos." Dad was very proud to be able to offer his faithful, loyal and knowledgeable readers regular columns which were not only engaging and accessible, but also historically accurate and well-written. He was supremely grateful to have been given that opportunity and he devotedly wrote for you, his dear readers, until the very end of his life, even editing from a laptop in a hospital bed before coming home in the last few days. I think you would agree that upon finishing one of his pieces you would invariably think, "Gee, that's so interesting!"
He had a feeling of peace that he had written for people who enjoyed his writing and appreciated so much the work of the staff at the newspapers that carried his column. He was editor of the Canadian consumer magazine Carguide for three years and his memberships include the Automobile Journalists Association of Canada (Charter Member) and the Society of Automotive Historians. He was one of three Canadian journalists invited to join the Amsterdam-based international 'Car of the Century' jury that chose the Model T Ford as the 20th century's most significant car. He wrote three books on automotive history, Reflections on Automotive History, Volumes I, II, and III.
His grandsons will work to find a good home for his incredible and hard-to-surpass automotive history library. Almost without exception, Dad took all of the photos which accompanied his columns and he leaves behind a photo library that is a testament to his dedication and meticulous organizational skills. Dad's favourite car was the Mercedes-Benz 300SL and so here is that column, originally written in 2015.
Rest in peace, Dad and thank you for all you gave us.
— With gratitude,
The Family of Bill Vance
— — —
Following the Second World War's devastation, Germany's Daimler-Benz, manufacturer of Mercedes-Benz cars and trucks, took until 1951 to introduce its all-new post-war 220 and 300 sedans. With modern passenger models in production, the company felt ready to pursue some of its pre-war racing glory.
Daimler-Benz and German rival Auto-Union had been almost invincible in 1930s Grand Prix racing. But war had taken its toll and by the early 1950s D-B still wasn't financially or technically ready to return to Grand prix competition.
As an interim measure it created a sports racer using M-B 300 sedan components. The 300 was not adaptable to racing, but its driveline and chassis components were robust enough for competition. The 3.0 litre single overhead cam, 12-valve, short-stroke, inline six's sturdy forged steel crankshaft was fully counterweighted and ran in seven generous main bearings.
An aluminum bodied coupe, with a low aerodynamic drag (0.25 coefficient of drag) was created, designated the 300SL (for 3.0 litres, Sport and Light).
Since the sedan frame was too heavy, a bridge-like "space frame" was fabricated from small diameter tubes. This was strong and light, but extended halfway up the sides of the car, precluding the use of regular doors. The designers, therefore, raised the bottoms of the doors and extended the tops into the reinforced roof where they were hinged near the middle of the car and raised vertically. Quickly dubbed gullwing doors, they were the 300SL's most striking and imitated feature. A solution to an engineering problem turned into an iconic styling signature.
The high sills made entry and exit awkward, so to ease driver entry the steering wheel tilted down. Once inside it was snug and comfortable compared with open sports cars and had excellent visibility.
The 300 sedan's 2,996 cc modestly stressed engine produced just 115 horsepower at 4,600 rpm. But it was strong enough to reliably develop more than double that; when the production 300SL was introduced it was rated at 240 horsepower. Carburetors were used during development, but the production model got Bosch mechanical fuel injection, the world's first four-stroke, gasoline-engine production car to have this feature. It also got racing-type dry-sump lubrication and to clear the low hood, the engine was tilted 50 degrees to the left.
The 300SL quickly made its mark in competition, winning, among others, the 1952 LeMans, France, 24-hour race and Carrera Panamericana (Mexican Road Race). It was also successful in rallying.
After pointing the way to D-B's return to Grand Prix racing, the 300SL would likely have been relegated to D-B's museum like other M-B racers. Before this occurred, however, events took a turn with the intervention of Max Hoffman, Mercedes-Benz's New York-based American distributor. Hoffman was the imported car czar of the United States. He had keen marketing sense and his Manhattan dealership sold everything from Volkswagens to Rolls-Royces.
Hoffman became a Mercedes distributor in 1952 and when he saw the Mercedes-Benz 300SL sports racing car, he knew it would sell in America. He implored D-B to make it a production model and backed up his conviction by ordering 1,000 of them. The opportunity was too good for D-B to pass up.
The production Mercedes-Benz 300SL gullwing coupe and less potent four-cylinder 190SL convertible, made their debut at the New York Auto Show in February, 1954. The 300SL was a sensation with the public and motoring press and production began in the summer of 1954.
The 300SL fulfilled its performance promise. Road & Track (4/1955) reported the 1,229 kg (2,710 lb) coupe accelerated from zero to 97 km/h (60 mph) in 7.4 seconds and to 161 (100) in a mere 17.2 seconds. It reached a two-way top speed average of 216 km/h (134.2 mph). R&T called it ". . . the ultimate as an all-round sports car," concluding that, "The sports car of the future is here today."
The 300SL had a hefty price – some $8,000 – a lot of money when a new Cadillac could be had for $5,000. This, in part, is probably why only 1,400 gullwing coupes were produced from 1954 to 1957.
It was replaced by a roadster with a frame modified to allow conventional doors and with D-B's low-pivot rear swing axle assembly replacing the traditional swing axles. Four-wheel disc brakes came in 1961 and the roadster remained in production until 1963; 1,858 were built.
The Mercedes-Benz 300SLs left an indelible impression, because it had everything. Fuel injection was a significant engineering advance. It had outstanding performance, impeccable racing credentials and the cachet of those gullwing doors, which M-B recently reincarnated in its SLS model.
The 300SL is one of history's great automobiles, even though it was not originally intended for production. It has become a very sought after and expensive collectible.
— — —
Rest in Peace our dear friend – you will forever be missed.  — Old Autos Family
— — —
Obituary
WILLIAM "BILL" GORDON VANCE
November 19, 1935 –
September 19, 2022
Loved and held by his family, Bill Vance passed into God's sheltering wings at home by the fire, amidst his books, on Monday September 19, 2022, with gratitude for his life. Bill is survived by his adoring wife Beth of 35 years, by his children Andrew Vance, Rev. Dianne (Jim) Everitt and Susan Vance (Marc Serrett) who respected and loved him and by his grandchildren David William, Marie Isabelle, Joseph "Joey" James and Colleen Dianne, who treasured their Papa. Greatly loved and missed by Shauna and Al Jones and Cousin Neil McKay and his wife Doreen.
For 32 years, Bill and Beth enjoyed a happy life in Rockwood, ON, and Bill's quiet friendliness will be missed by all of his neighbours. A graduate of McMaster University, he was so proud to have his granddaughter Marie representing the third generation to study there. He spent his career in Personnel with the Ontario government. Bill was a man of integrity and as honest a person as you could ever meet. He was a generous and kind father and grandfather; he was quiet and humble, with a razor-sharp intellect.
He will be missed by his great many loyal readers of automotive history. He was supremely grateful to have been given the opportunity to publish his writing, and he devotedly wrote for his dear readers, until the very end of his life. He passed away as one of Canada's most respected automotive historians. He had a feeling of peace that he had written for people who enjoyed his writing and appreciated the work of the staff at the newspapers that carried his column so much. His grandsons will work to find a good home for Bill's incredible and hard-to-surpass automotive history library.
Bill began his automotive writing career more than 50 years ago, covering the full spectrum of automotive subjects. His interest in history and technology gradually led him to a specialization in automotive history where his keen appreciation for and knowledge of both the social and engineering evolution of the automobile was evident in his authoritative writing. He was often consulted for his expertise, and his weekly automotive history column was syndicated to newspapers in Canada and the United States. His close attention to technical detail, historical accuracy combined with his accessible writing style and choice of subjects made his columns popular wherever they appeared. The many cars Bill test drove, some exotic, always thrilled his own children and those in the neighbourhood.
Born to a single mother and raised in Grey County, ON, Bill spent the first four years of his life travelling around with his mother cleaning houses. Poverty forced his mother to drop him at the Grey County Children's Home in 1939 and, broken-hearted, he spent the next 6 years there. He considered it one of the luckiest breaks of his life to be adopted by Queenie and Harvey Vance in 1945.
He felt very lucky and blessed in his life, with his family and opportunities that had been given him, and he died with a feeling of peace about all things.
A Celebration of Bill's life will be held on his birthday in November. Arrangements entrusted to Gilchrist Chapel – McIntyre & Wilkie Funeral Home, One Delhi Street, Guelph, (519-824-0031). If desired, memorial contributions made to the Festival of the Sound, P.O. Box 750, Parry Sound, ON P2A 2Z1 1-866-364-0061 in honour of Bill Vance would be appreciated by the family. We invite you to leave your memories and donations online at: www.gilchristchapel .com and they will be forwarded to the family.