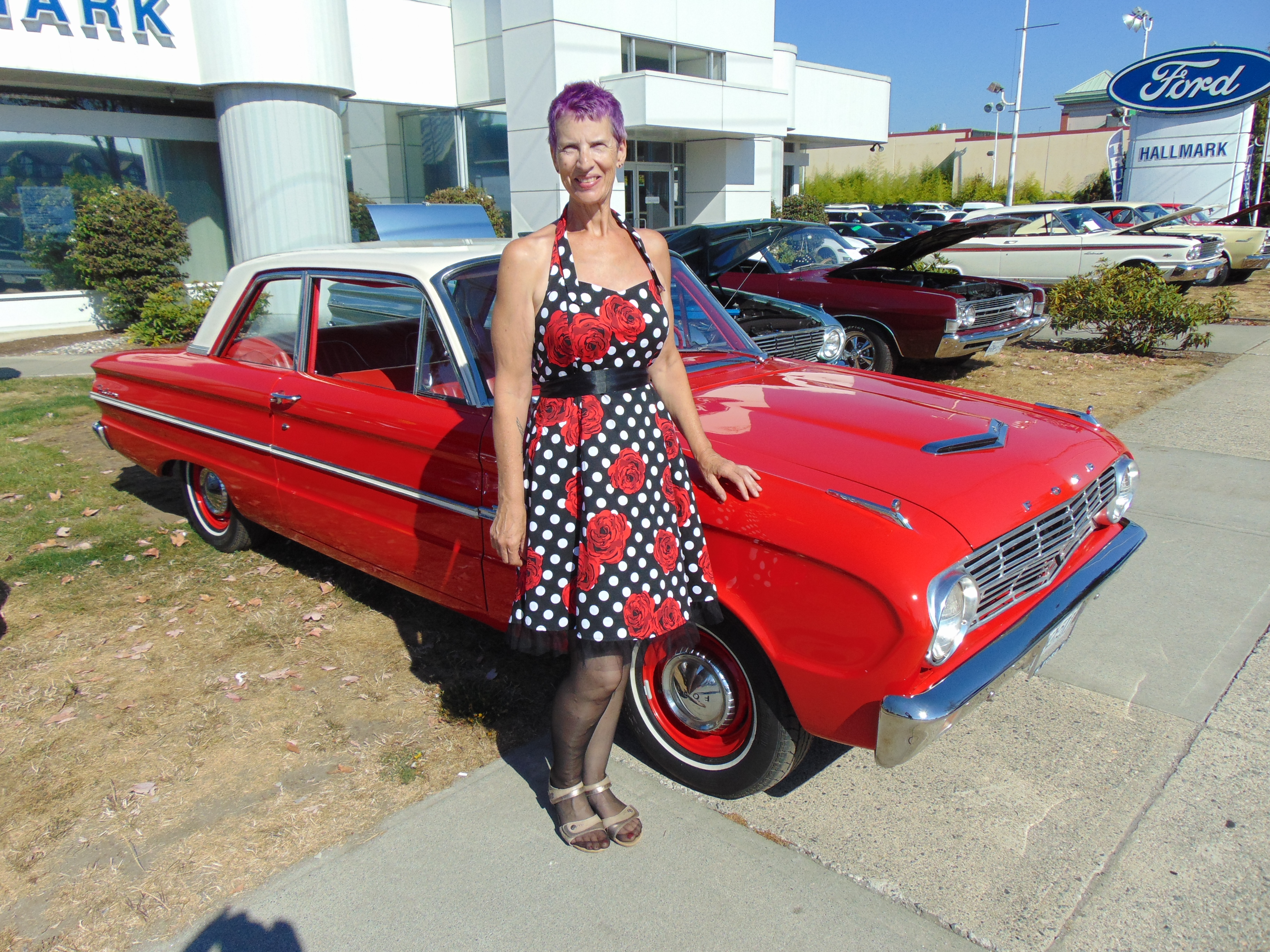 1963 Falcon Rescue – Alyn Edwards
Agassiz school custodian Stephanie Eckstein went into a deep depression after her husband of 34 years died from cancer. "I didn't think I had a reason to live apart from my two daughters," she says candidly of her life two years ago.
She often drove by a farm where an old red car rested beside a barn. It was a sad looking car that looked abandoned. She could relate to that.
She grew up on farm in the South Okanagan community of Keremeos. "You learn to be self-sufficient and fix everything – with bailing twine if necessary," she says.
She loved old cars from the earliest age and would sit under a derelict hulk at her grandmother's farm for hours until she was warned about rattle snakes. She and her late husband Vernon often talked about getting an old car but never did.
She became intrigued by the old red car beside the barn in Chilliwack. "When I saw the car, I just wanted to fix it, rather than to see it go to the wrong people," she says. "I love the shape and design of cars like this. My dad was always into Fords and I just liked that car."
She considered sending it to Alberta where her brother lives for a professional restoration. But she didn't want it that far away even though she had the full support of her brother.
After due consideration, she bought the very rough 1963 Falcon Sports coupe and resolved to restore it herself. "It had been owned by a little old lady. But it had sat in a field since 1977 and the floor was quite rusty," she says of the challenge in restoring a car a year younger than she is. "But I never had second thoughts about buying her."
First she had to build a shop to do the work. She bought lumber, plywood and hardware to enclose her carport and had a garage door installed.
Four months after her husband passed away, she began a total restoration of the 55-year-old little red Ford Falcon. She would discover it was a lot worse than she thought.
She learned what to do from videos. The first task was to pull the carpet out to see the condition of the floors. "The video showed how to use a screwdriver to check for rust. There was a lot," she says.
Three areas needed welding so she cleaned all the rust and ground down the welds and had the car taken to a shop to weld in new floor pans. The she joined the Canadian Ford Falcon-Fairlane-Comet Club, a local organization in its 37th year with 71 members. "They became my family," she says of meeting fellow Ford enthusiasts. "I told them I needed a mentor and they said they had never done mentoring before."
Despite that, experienced mechanic and body repair expert Zoltan Bod agreed to help. The two exchanged emails with photographs and instructions and Stephanie received instructions to proceed. She connected with other members at the monthly meetings. She was told about a good engine and transmission which she purchased and swapped it into the Falcon to make it mobile. She did all the upholstery herself including the headliner.
The work would take more than a year. Stephanie did most of the restoration work except for welding, painting and chroming.
She drove her restored Falcon Sports coupe that she has named Carletta to the interior to visit her sister and nephew in Keremeos. She attended car shows there and in Penticton. "The car performed really well," she says. "I now go to car shows every weekend and talk to people. It's great therapy."
When asked if she restored the car or the car restored her? She responds saying: "It's a little of both but the car did fix me. I still miss my husband all the time. But the car really keeps me sane."
Stephanie says the car hobby has been therapy for her. "I think more women should realize they can do it. It's a wonderful hobby. Carletta is my baby," she says proudly.