For over 35 years Old Autos has been Canada's Number #1 Newspaper for the Old Car Enthusiast. Each issue is jam packed with interesting articles and pictures from some of Canada's most notable automotive writers. Several writers contribute regularly about antique cars, classic cars, race cars, muscle cars, trucks, tractors, bikes, and nostalgia etc., etc. Not only does each issue have informative articles, car show reports, car club tours, auction results, but a large classified section and events listing covering events from Newfoundland to British Columbia.
Old Autos is published the first and third Mondays of each month in Bothwell Ontario, a small Southwestern Ontario town of 900 people. Circulation is for both mailed and online papers. Most of Old Autos newspapers are read by yearly subscribers, but we do have some retailers. Click on Retailers button above for the list of places where you can purchase a copy of Old Autos.
Old Autos was founded in 1987 when the "two Murrays", Murray McEwan of Bothwell ON and Murray Cutler of Oakville ON, and their wives, Jan and Joyce joined forces and created a "Canadian Newspaper for the Enthusiast". It grew from an idea to a full fledged publication serving hobbyists coast to coast. Sickness forced Murray Cutler to sell his share to Murray and Janet McEwan in 2006. McEwan's printing business Quad Printing was then amalgamated with Old Autos forming the present company name Old Autos Publications Inc. Sadly, Murray Cutler passed away in 2008 and Jan McEwan in 2009.
In December 2011, after 50 years in the publishing business, Murray passed the ownership of Old Autos over to office manager Mary Jo DePelsmaeker and bookkeeper (and daughter) Kim Meloche, who with the current capable team and Murray remaining part time, look forward to continue serving the antique vehicle hobby.
Currently seven full-time staff produce Old Autos Newspaper twice monthly. Old Autos prides itself on small-town personal service, so when you call you will always speak to a 'real' person. You will never get 'voice mail' and you will always receive personal service…during regular business hours.
Old Autos attends many shows throughout Canada, with several sales people who sell subscriptions at shows and events.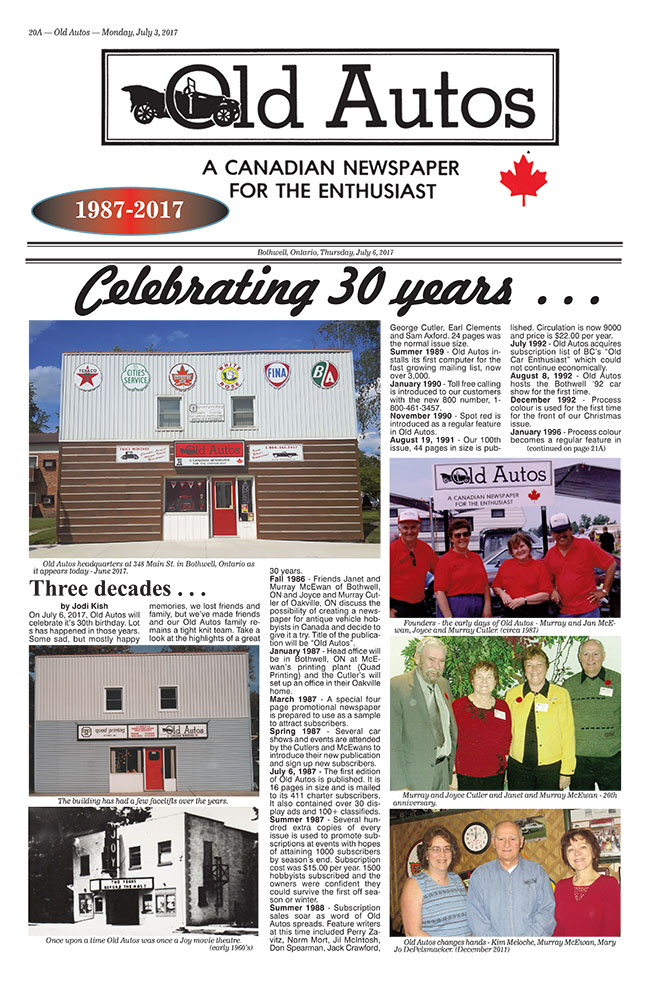 OFFICE HOURS
Monday through Friday 8 am to 3 pm
(Ontario time)
Phone 1-800-461-3457 toll free
Local calls 519-695-2303
Fax  519-695-3716
Or you can email us
MAIL:
Old Autos
PO Box 250
348 Main St
Bothwell ON  N0P 1C0
EMAIL CONTACTS
info@oldautos.ca                                                                                        (general inquiries, story and picture submissions) – Lisa
ads@oldautos.ca                                                                                         (display ads, graphic design, production) – Louanne
maryjo@oldautos.ca                                                                                           (display ads, billing, office) – Mary Jo
classifieds@oldautos.ca                                                                                        (classified ads) – Carrie
subscriptions@oldautos.ca                                                                                       (subscriptions/address changes) – Cathy
eventscruises@oldautos.ca                                                                                       (calendar of events, cruise night listing) – Lisa
Submit News
Email: info@oldautos.ca
Postal mail: OLD AUTOS  PO BOX 250  BOTHWELL ON  N0P 1C0.